LEGO Batman 3: Beyond Gotham swoops into town on November 14th, and for the first time ever a LEGO game is getting a Season Pass. This pass will let you download all of the DLC packs when they launch, and will cost less than buying the DLC on their own.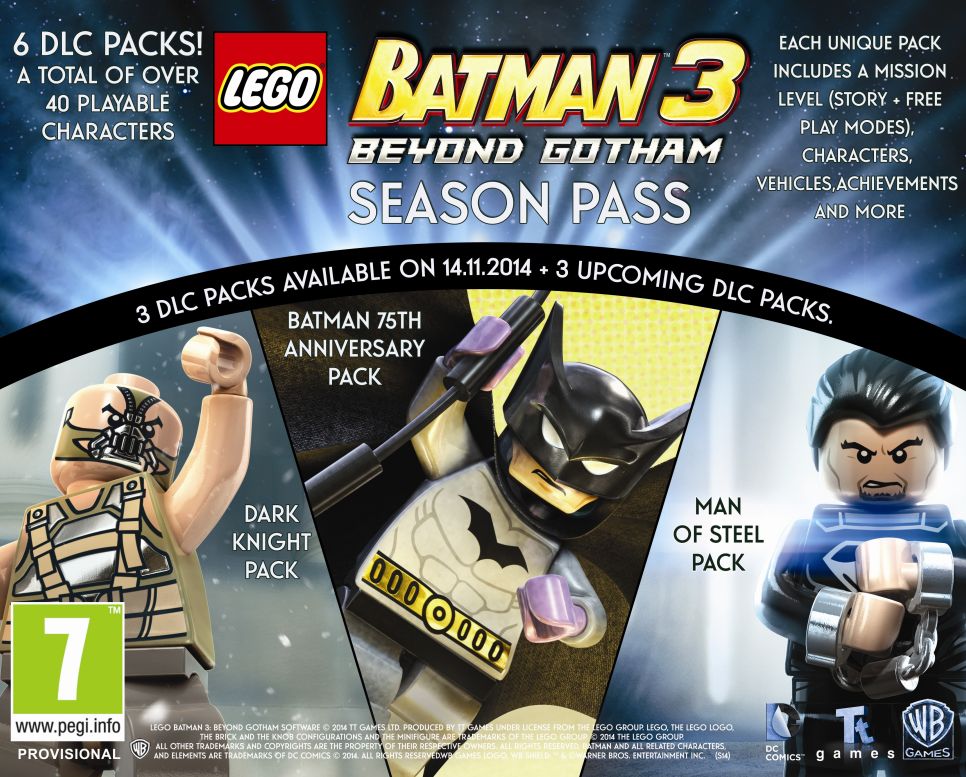 The DLC packs are worth looking at too. Three will be released over the few months after LEGO Batman 3 comes out. They are: The Dark Knight, Man of Steel, and Batman 75th. The first two are based on the Batman and Superman films that you may have seen, and the third pack celebrates the 75th anniversary of Batman comics.
In each pack is:
The Dark Knight Pack: Contains the chase scene from the film of the same name and will allow you to play as the Dark Knight and Commissioner Gordon – as well as the Joker as he chases down Harvey Dent's police escort. Bane and Catwoman from the third film are also playable.
The Man of Steel Pack: Players will help Jor-El, his wife Lara and their robot Kelex send baby Superman to earth. Players will enter Jor-El's home, fight General Zod's invading forces and Zod himself.
Batman 75th Pack: Here you will play as Joker and Harley "setting up a variety of celebration set pieces." You can also play as one of the many faces of Batman through the years, including his first appearance in Detective Comics #27.
The Season Pass will release on November 14th, the same day as LEGO Batman 3, and if you buy it for £12.79 you'll get three other DLC packs to play with right away. These three packs will give you 40 extra characters, as well as vehicles, new missions, and achievements. Later on next year when The Dark Knight, Man of Steel, and Batman 75th packs are released, Season Pass holders can download them without paying any more money.
If you don't want to buy the Season Pass but still want some of the DLC packs, each pack will cost £2.55. The DLC and Season Pass will be available for PS4, Xbox One, Xbox 360, PS3, and PC. For more awesome LEGO game stores, check out the LEGO channel.