There's some great news for anyone who loves Skylanders Swap Force this week as GAME have launched a Skylanders Swap Force Rewards Club! This new club is open to anyone and if you join you can get special free gifts, cool newsletters, and invites to in-store events for Swap Force!
What is so awesome about this new club is that you are guaranteed to get exclusive limited edition gifts when you purchase Skylanders Swap Force official products in a GAME store! These are: Skylanders Swap Force Topps Cards for your fifth purchase, a Skylanders Limited Editon Sidekick character after your eighth purchase, and a really cool Limited Edition Polar Whirlwind Skylanders Giants character for your twelfth purchase! Your super awesome gift will also be posted directly to your house automatically, so you don't have to worry about sending off anything in order to get them!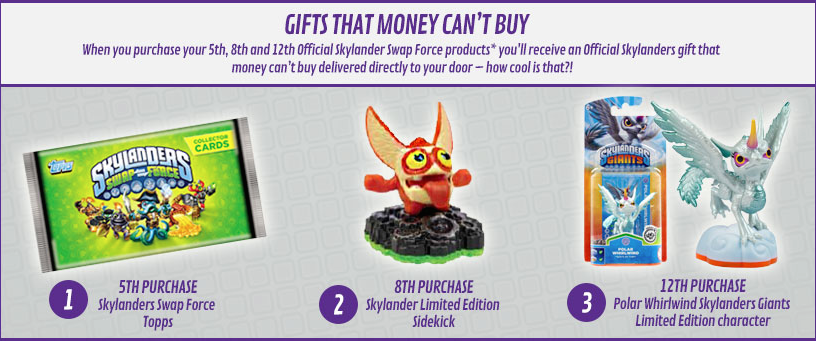 You'll also receive exclusive Skylanders newsletters over email, and members will not only get special trade-in offers so you can swap your old Skylanders stuff for store points or cash, but will also be invited to special in-store events for Skylanders Swap Force fans! Neat, huh?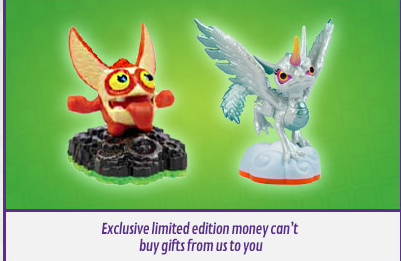 Want to sign up? It's easy – you just visit any GAME store and tell a member of staff that you'd like to join the club. You must then buy Skylanders Swap Force merchandise worth over £29 pounds and you will automatically get added to the club! Remember to make sure you have an adult with you though as they will need to sign up for you if you are under 16. When you've joined you'll get a cool Skylanders Swap Force card that you must bring with you every time you buy stuff in GAME. As your first purchase must be at least £29, this is a great excuse for anyone who hasn't got the game yet, or anyone who has a birthday coming up to get lots of new characters!
What are you waiting for, head down to a GAME store now to sign up! And if you want more cool Skylanders Swap Force stuff, check out Skylanders Swap Force Guide: 10 Tips to Help You Ace It.