The new Transfromers movie – Age of Extinction – is out in cinemas right now. But you
can only watch the movie once, and you have to pay to see it. Know what you can do loads of times, and for free? Play the game, of course! The Transformers Age of Extinction game for iOS is on the App Store right now, so if seeing the film has you wanting more, start playing now.
The Transformers Age of Extinction game is a 'combat runner', so think of games like Temple Run and Jetpack Joyride, except you have to battle the bad guys along the way. In this game, the enemies are the Decepticons, the evil robots from Cybertron who want to destroy Optimus Prime and his Autobots friends. You can play as Optimus, Bumblebee, and other Autobots, and equip them with the weapons that you think will best help defeat the Decepticons. Keep playing to level your Transformers team up so they can be the best they can be. And when you need a little more roar in your battle, get Grimlock the Dinobot involved. He can smash and burn everything in his path!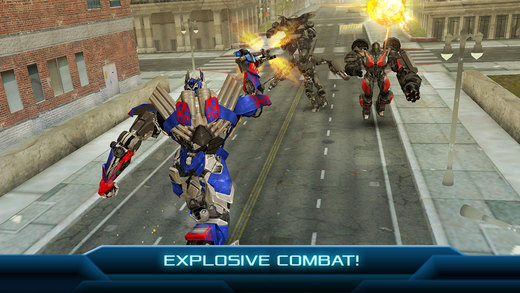 Transformers Age of Extinction is available for free from the App Store. If fighting robots doesn't tickle your fancy, try something else from the Best Apps channel.