Welcome to BoxMash's new iOS App of the Day! Every day we will be bringing you new and cool games from the Apple App Store that we think you should play. Best of all, every game we recommend will be free to download. Today we're looking at the ace Tiny Tower from NimbleBit.
Tiny Tower lets you build your very own tower and manage the business inside it. The building will be full of bitizens – tiny people who you must help in keeping the business going. The more money you can make in Tiny Tower, the more floors you can build, helping your tower grow from something tiny to a towering skyscraper! As your business grows and you make more money, special VIP visitors will turn up and give you special perks.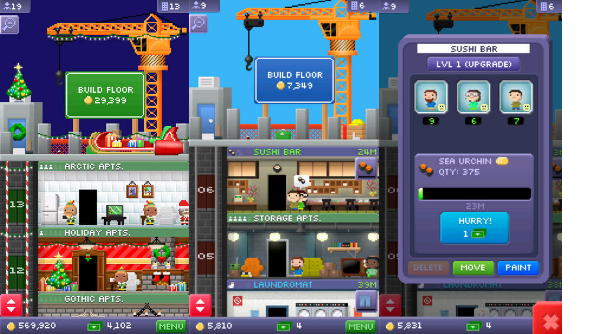 Since it's almost Christmas (how exciting!) there are also some snowy themed extras in Tiny Tower at the moment, like Santa's sleigh and lots of presents! It's the perfect game to get you in the mood for Christmas.
To get Tiny Tower, just search for it on the App Store on your iPad, iPhone, or iPod Touch, and download it for free!