Welcome to BoxMash?s iOS App of the Day! Every day we will be bringing you new and cool games from the Apple App Store that we think you should play. Best of all, every game we recommend will be free to download. Today we?re looking at Sonic Dash from Sega.
Sonic?s best skill is running really fast, and this app does an amazing job showing off that talent. Sonic Dash is an endless runner, with uncountable miles of track to run along, some amazing scenery, and of course thousands of rings to collect!
Sonic?s enemies won?t just let him run though, so Dr. Eggman and his cronies will be out to stop you in a set of great boss battles too. You?ll even have to face up against Zazz from the Deadly Six, the big villains of Sonic Lost World.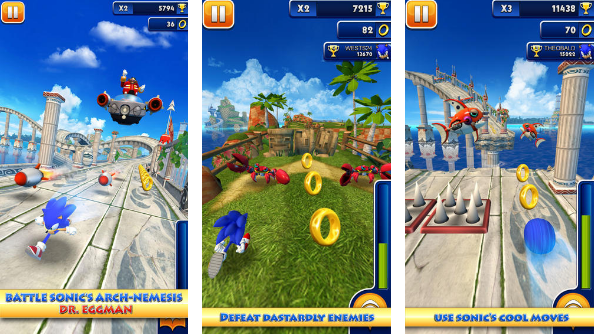 Do well and you can get power ups like shields to bypass danger, and head-starts so you don?t have to start from the beginning all over again.
You can download Sonic Dash for free from the App Store on iPhone, iPad, or iPod Touch.