Grab a board, flex your fingers, and make sure your trucks are secure: it's time to skate! Skyline Skaters is a really fun endless runner game where you skateboard across the horizon and rooftops of a city, picking up coins along the way to score big big points.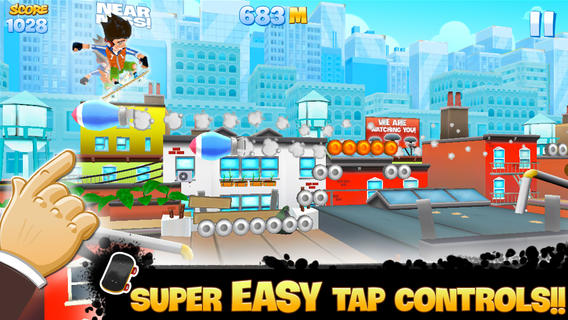 The police are on your tail though, and will stop at nothing to catch you! So you'll need to pull off amazing tricks like ollie and kickflips to escape across some tricky jumps and hazards. The pressure is always on, so you'll need to keep your skills sharp to make sure you get as far away as fast as possible.
There are different skaters to play as, and awesome boards to unlock. You can also compete with your friends on leader boards to prove who the best skater really is!
To play Skyline Skaters, just download it on your iPad, iPhone, or iPod Touch from the App Store. Skyline Skaters not for you? Then check out our other favourite apps in the Best Apps channel.