It's true, it's FINALLY here: Hearthstone is available on iPad! You know what that means. If you don't know what that means, it's time for a quick introduction to one of the best games around at the moment. Hearthstone is a collectible card battle game. You make a deck of cards that all have different kinds of attacks and spells, and you try to defeat another player in a duel. It's quite simple to play, but you need to be really skilled to take on the best players!
In Hearthstone you play as one of a few different characters. There's the Mage, the Druid, the Warrior, the Priest, the Hunter, and a few more. Each character can use cards from a set that everyone can use, and then they have their own special set of cards. Mages can cast spells like fireballs that heavily damage enemies, and Warriors can use mighty weapons that can be used several times before breaking. You take it in turns to play cards, and the first person to damage the enemy 30 points is the winner!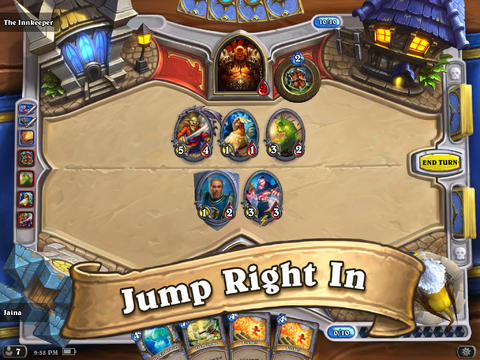 Of course, it's not just as simple as causing 30 damage, since the enemy can bring minions to the battle
to fight for them. Think of it like a trainer in Pokemon fighting with their monsters! So you have to always make a choice: do you damage the enemy player and get closer to winning but also risk being attacked by their creatures and soldiers, or do you attack their minions and try to attack them on the next turn?
Hearthstone is free for download from the App Store for iPad. Unfortunately it's only on tablet, so you won't be able to play on iPhone or iPod. If you're looking for a guide on how to play, check out this brilliant video where Family Gamer TV play the game for the first time.