It's time to strap on your helmet and jump in your boat, because we need to hit that beach ASAP! In Boom Beach, you take a group of soldiers on a daring mission to raid the beaches of the evil Blackguard forces and save a tropical paradise from their nasty claws.
It's a top-down strategy game where you can attack hundreds of island bases. Some of these are under control of the Blackguard, and defeating them gets you further through the story, and others are owned by actual players. Raiding other players islands means you can steal their treasures, but be careful that other players are not raiding your island whilst you plunder theirs!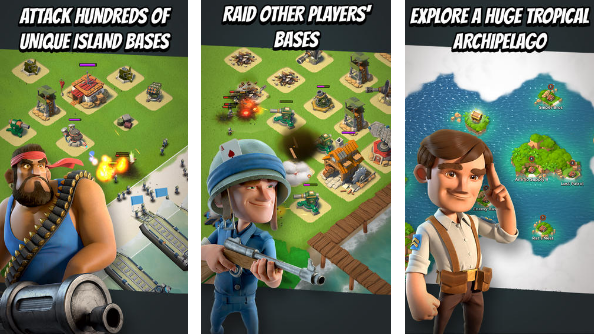 Hidden on the island are ancient statues and life crystals that offer hidden powers and special abilities, making your army bigger stronger, and more fearsome! But make sure you are prepared: big bosses with evil plans will be guarding them, so unlocking the ancient powers wont be an easy task.
To start your own adventure in the tropical island paradise, run over to the App Store and download Boom Beach for iPad, iPhone, or iPod Touch.