Welcome to BoxMash's iOS App of the Day! Every day we will be bringing you new and cool games from the Apple App Store that we think you should play. Best of all, every game we recommend will be free to download. Today we're looking at 94 Degrees from Scimob.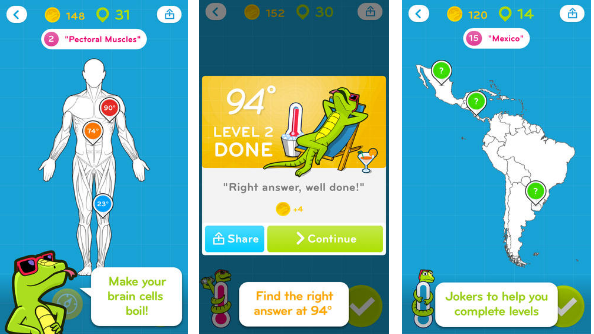 94 Degrees is a different kind of game to what we usually feature on App of the Day. It's a knowledge quiz, one that will test what you know, and teach you facts that you don't! Do you know where Brazil is? How about the top speed of a leopard? Where on your body are your triceps? If you know the answers, you'll score really highly. If you don't, then you're about to learn something new.
To guess an answer, you have to point on the screen to what you think is the right area. If you're way off the mark, the lizard will tell you you're cold. The closer you get to the right answer, the warmer and warmer you get. Hit 94 degrees on the thermometer, and you've got the right answer!
You can download 94 Degrees for free from the App Store. It's available on iPad, iPhone, and iPod Touch.